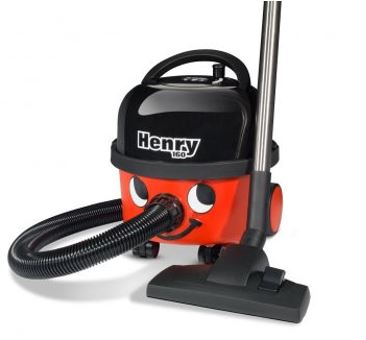 Henry Compact HVR160 – Dry Vac
The new compact Henry has all the features of Henry 200 in a smaller package.
It's not just Henry's size and weight that has changed, he's always ready to go with all new on-board accessory storage and improved floor tool docking. The cable and storage rewind system remains trouble free and spring free, keeping everything neat and tidy. Professional specification brings a 10m power cable and 6L drum capacity, keeping you cleaning for longer.
Energy efficient – A rated.
High Efficiency Motor – Numatic high efficiency long life motor.
10 Metre Cable – Easy reach, 10 metre cable and rewind storage system.
TriTex Filtration System – Improves filtration, cleanliness and capacity.
On-board Accessory Storage – Tools are always to hand.
Wand Docking – Convenient, on-board wand docking storage.
HepaFlo – Easy to change high efficiency HepaFlo bags.
Professional Accessory Set – A tool for every job.
Hetty HET200P – Dry Vac
Everyone knows Henry, Europe's favourite vacuum cleaner with now over six million in use; bringing a smile to those cleaning chores. Henry has now got a friend … Hetty. So you now have a choice …. Henry or Hetty … or both! Hetty is not just a pretty face, she has all of the Henry features and specification; giant twinflo', long life 620W motor and high efficiency filtration.
In 2006 we made Henry even better and all of those improvements are present in Hetty, plus our superb comprehensive accessory kit; which includes a stainless steel tube set and combination floor nozzle, which with the range of smaller accessories will make light of all your cleaning needs. People love Henry … and you'll soon be loving Hetty too!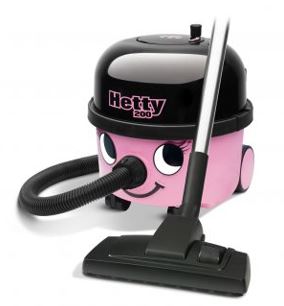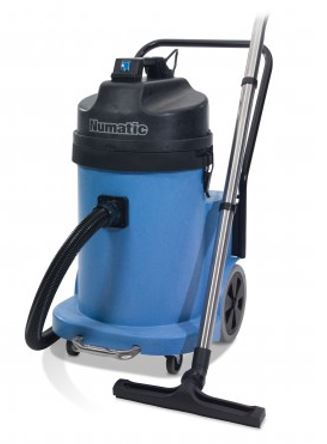 Numatic CVD900 – Wet & Dry Vac
The new CombiVac will be found at home in the dirtiest of places.
First you have the full Structofoam construction, unmatched worldwide. Structofoam is a material formulation embodying all the strength needed for bigger machines, yet without weight penalty. It is really rugged. It doesn't dent, scratch or deteriorate and yet it is light in weight and resists all standard cleaning chemicals.
The unique filter system enables the user to switch from dry to wet pick up without the hassle of changing filters or kits.
The power and performance are to the full TwinFlo' standard with a choice of one or two-motored specifications and both incorporate the Nucable plugged, replaceable cable system as standard.
High efficiency dual washable filter system
Use for wet and dry pick up, no need to change kit or filter
Standard BS8 accessory kit with stainless steel tube set
Duplex two motored model
Numatic WVD570 – Wet and Dry Vac
Small – medium size dual-motored wet & dry vac. Construction, size and capacity as WV570-2 but with 2400W power giving 80L/sec airflow. A highly portable and rugged machine for commercial and light industrial use.
George GVE370 – Wet and Dry Vac Carpet Extractor
All-in-one vac. offering five cleaning options – dry or wet vacuuming, scrubbing & drying of hard floors , cleaning the carpets and upholstery. Powerful 1060W bypass motor and comprehensive accessory kit.