We only supply high quality steam cleaning machines, suitable for industrial, commercial and domestic use. These floor & steam cleaners are capable of offering a deep, hygienic clean without the use of chemicals, and only using minimal water. Choose a steam and vacuum model to get rid of bacteria, or one with detergent injection for lifting stubborn dirt. Steam is highly effective on carpet, as well as when used in a floor tile cleaning machine.
POLTI Vaporetto Eco Pro 3.0
Steam Cleaner for deep and special cleaning
Vaporetto Eco Pro 3.0 is the steam cleaner with a classic design and reliable performance. With steam output at 110 grams per minute, Vaporetto Eco Pro 3.0 is a steam cleaner that is particularly suitable for deep cleaning or special tasks like cleaning barbecues or tyre rims. Its large 2 litre boiler means you can clean for long periods of time without breaks. The included accessories make it possible to clean a number of surfaces: from floors to bathroom fixtures, from carpets to windows, from hobs to tile grouting, and don't forget sofas and mattresses.
High pressure boiler, up to 4.5 bar
Safety cap
Adjustable steam output up to 110 g/min
9 included accessories
Made in Italy
Technical Features
Tank Capacity: 2L
Steam Output: 110 G/Min
Power: 2000W
Max Pressure: 4.5 Bar
Working Autonomy: Unlimited
Dimensions (LxWxH): Ø 32 x 34cm
Accessories Included: 9
Boiler Material: Stainless Steel
Brush Parking Unit: Yes
Weight: 4.9kg
Operating reach: 8m
Wheels Included: Yes
Out of Water Signal: yes
Child Safety Steam lock: Yes
System: Pressurised boiler with safety cap
Steam Ready indicator light: yes
Heat-up Time: 11 min
Product Code: PTEU0260
Included Accessories
FLOOR AND CARPET BRUSH
Brush for cleaning floors of different types such as tiles, parquet, ceramic and marble, but also for carpets and rugs. Can be used with or without the cloth.
WINDOW-CLEANING BRUSH
The window-cleaning brush, complete with both soft and rubber inserts, offers sparkling windows with no streaks that stay cleaner longer. Save money, as detergents are no longer needed.
SMALL BRUSH
This brush is designed for cleaning smaller surfaces. It can be used with the sockette provided. It is particularly appropriate for: upholstery fabrics, velvet and leather (from a distance), car interiors, very dirty windscreens, small glass surfaces, tiles, cupboard doors, doors and other small surfaces.
STEAM CONCENTRATOR + BRUSH
The steam concentrator is perfect for targeted cleaning jobs. It can be used together with the small brush with nylon bristles to increase dirt removal capabilities.
SOCKETTE
A soft sockette is provided to collect the dirt that is dissolved during steam cleaning. Used with the small brush.
STEAM LANCE
To be used with the steam concentrator in hard to reach places.
FLOOR CLOTH
A microfibre cloth is provided for attaching to the brush to collect the dirt dissolved by the steam. For all types of flooring.
KALSTOP ANTI-LIMESCALE PRODUCT
2 vials of Kalstop are provided, a special anti-limescale compound for products with a boiler. Made from plants, it is safe for humans, easily biodegradable and harmless to the environment. Used regularly it prevents the formation of limescale and improves steam delivery, keeping your appliance working perfectly for longer.
ACCESSORY STORAGE BAG
Practical fabric bag to hold all the accessories.
FUNNEL
Quickly fill the boiler, avoiding any spills.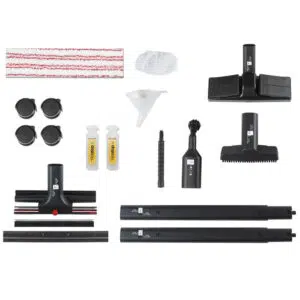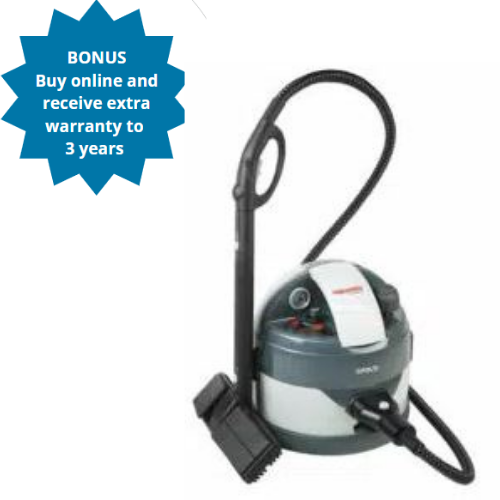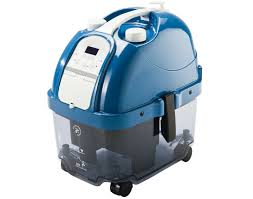 A new cleaning machine that guarantees excellent hygiene on all surfaces, thanks to its many functions.
The use of water as a main element makes it a truly safe and environmentally friendly machine. Its power allows for use in both domestic and professional use. If necessary, the Hera changes into a powerful steam iron with unlimited autonomy. Due to its small dimensions, it is easy to move and handle and it can be stored anywhere.
Even richer and more versatile
Powerful suction of solids and liquids
Air cleaning
Steam sanitation
Enriched steam washing (power jet)
Cold delicate washing
Instant drying
Professional ironing
Technical Features
Steam Pressure: 6.5 Bar
Recharging System: Auto
Ready Steam: 5 Min
Boiler size: 1.5 Lt
Boiler material: Stainless Steel
Vacuum: YES
Vacuum power: 2400MM
Vacuum Tank Capacity: 5.5Lt.
Size: 37 x 30 x 41
Weight: 12Kg
Some of its most important features
plastic high-resistance, protections against shocks
cooled ergonomic handle
intuitive switchboard with digital display
controls and adjustments also on the handle
double turbine motor
great collection capacity up to 6 litres
the biggest water filter in its category
molecular separator
steam at 6.5 bar with unlimited supply
energy-saving boiler
Automatic refilling
A high-pressure pump injects water directly into the boiler, keeping its level always constant while using the steam.
It cleans the air
Water filter and molecular separator to gain an effective air cleaning

It washes, it sanitizes
Steam, ready to be used in less than 7 minutes, assures a very good hygienic clean everytime
Vacuum
Without bags or filters to change, the suction power stays always at high levels
It sucks liquids
The waste tank has a capacity to hold almost 6 litres, making it more efficient
It irons
The powerful jet of steam (6.5 bar) guarantees a professional level ironing
Standard Accessories Kit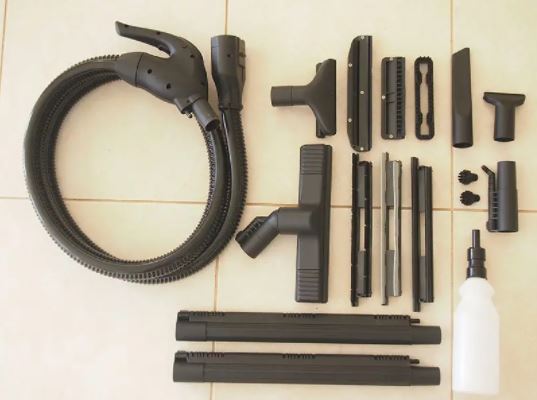 Optional Accessories
Professional Upholstery Nozzle
Steam Mop With Micofiber Pad
Iron
Trolley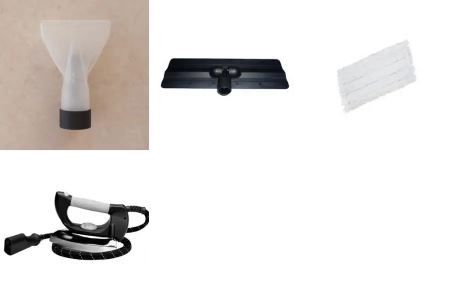 The Athena 8 Plus is a compact steam and vacuum machine with a steam jet that can reach a pressure of 8 bar. It is a powerful and ecologic machine, which sucks solids and liquids. There is no need to change filters or bags periodically since it uses the natural properties of water and steam to ensure the maximum hygiene and cleanness, while respecting the environment.
The Athena 8 Plus uses high temperature steam to deep clean below the surface and effectively lift built up dirt and grime unlike other cleaners on the market. The Athena can deep clean a huge variety of everyday surfaces including floors, walls, windows, curtains, upholstery furniture, mattresses, kitchens and bathrooms.
Technical Features
Steam Pressure: 8 Bar
Recharging System: Auto/Manual
Ready Steam: 6 Min
Boiler size: 2.5 Lt
Boiler material: Stainless Steel
Vacuum: YES  5 Levels
Vacuum power: 2400MM
Vacuum Tank Capacity: 6Lt.
Detergent  Injection: YES
Size: 37 x 30 x 50
Weight: 12Kg
Some of its most important features:
plastic high-resistance protects against shocks
cooled ergonomic handle
intuitive switchboard with digital display
controls and adjustments also on the handle
double turbine motor
great collection capacity up to 6 litres
the biggest water filter in its category
molecular separator
steam at 8 bar with unlimited supply
energy-saving boiler
Included Accessories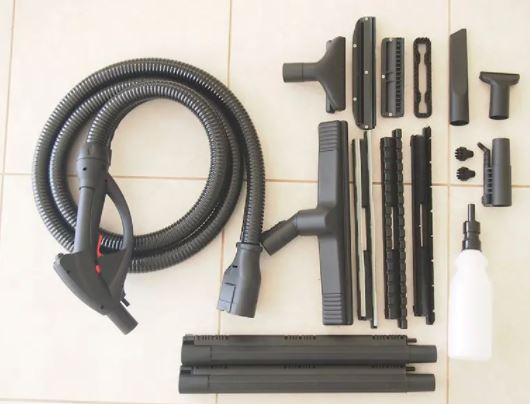 Optional Accessories
Professional Upholstery Nozzle
Steam Mop With Micofiber Pad
Trolley