We only supply high quality steam cleaning machines, suitable for industrial, commercial and domestic use. These floor & steam cleaners are capable of offering a deep, hygienic clean without the use of chemicals, and only using minimal water. Choose a steam and vacuum model to get rid of bacteria, or one with detergent injection for lifting stubborn dirt. Steam is highly effective on carpet, as well as when used in a floor tile cleaning machine.
The SuperVap is the leading model which makes light work of tough stains. This conveyor belt steam cleaner uses high temperatures and low pressure from two 4.5L boilers to effectively and powerfully clean.
It is a heavy duty industrial 3 phase steam cleaning machine, delivering 10 bars of steam pressure and 213 of steam per minute. Despite this high level of steam generation, this machine is able to use very little water and is considered incredibly environmentally friendly.
Technical Features
Maximum Pressure: 10BAR
Maximum Temperature: 180°C
Max. Steam Output Dry: 13.2lt./hour—220gr./min.
Max Steam Output Wet: 18lt./hour—300gr./min
Water Tank Volume: 20lt. Internal
Electric Heating Power: 9.000 Watt
Boiler Volume: 4.5lt. Stainless Steel AISI 304
Heat up time: 5 minutes
Voltage: 400V~ 50/60Hz
Dimensions LxWxH: 88 x 60 x 110 cm
Net Weight: 63kg
Dry steam regulation: Manual 0 – 220gr./min
Wet Steam Regulation: 4 Electronically Regulated Levels
Detergent Function: 4 Electronically Regulated Levels
Detergent Tank Volume: 2 x 5lt. Canister
Vacuum: Optional Function
Vacuum power: 1200 Watt
Vacuum Container Volume: 20lt.
Length power cable: 10 metre
Standard Accessories Kit
1x industrial steam only lance 6Mt long
4x 2" round (wire+nylon+brass) brush
4x 38mm round (wire+nylon+brass) brush
4x 30mm round (wire+nylon+brass) brush
1x safety gloves
1x water hose connection

Optional Accessories
Vacuum Kit
Wine Barrel Cleaning Tool
Nozzle with Wide Angle
Steam Mop Head
Microfiber Pad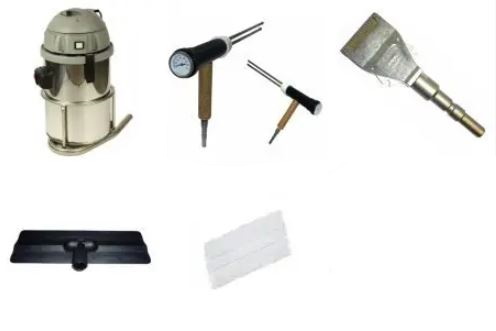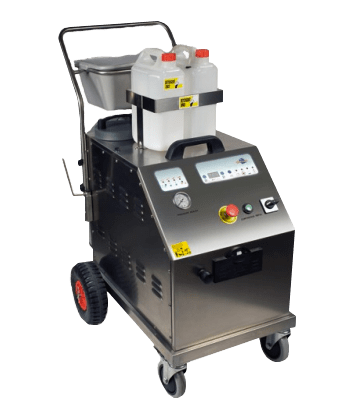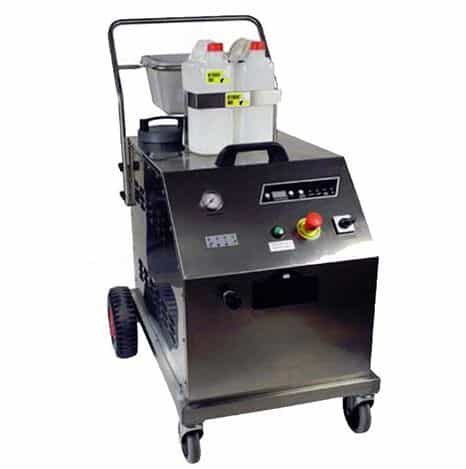 The GALAXY has a unique boiler supplying 26.4 litres of dry saturated steam per hour at up to 10 bar of pressure, this industrial steam cleaner is "state of the art".
The GALAXY is particularly well suited to specific target deep clearing applications that require the highest levels of hygiene, reliability and flexibility of application!
The Galaxy is a heavy duty industrial grade floor & steam cleaners ideal for heavy duty industrial cleaning including factory cleaning production lines, conveyor belts and detail cleaning.
Technical Features
Maximum Pressure: 10BAR
Maximum Temperature: 180°C
Steam Output Dry: 26.4lt./hour—440gr./min.
Max Steam Output Wet: 36lt./hour—600gr./min
Water Tank Volume: 40lt. Internal
Electric Heating Power: 18.000 Watt
Boiler Volume: 9lt. Stainless Steel AISI 304
Heat up time: 5 minutes
Voltage: 400/415V~ 50/60Hz
Dimensions LxWxH: 104 x 70 x 110 cm
Net Weight: 85-94kg
Dry steam regulation: Manual 0 – 440gr./min
Wet Steam Regulation: 4 Electronically Regulated Levels
Detergent Function: 4 Electronically Regulated Levels
Detergent Tank Volume: 2 x 5lt. Internal
Continuous Feeding Inlet: Yes – 3/4" BSP QR
Vacuum: Optional
Vacuum power: 1200 Watt
Vacuum Container Volume:20lt.
Length power cable: 10 metre
Standard Accessories Kit
1x industrial steam only lance 6Mt long
4x 2" round (wire+nylon+brass) brush
4x 38mm round (wire+nylon+brass) brush
4x 30mm round (wire+nylon+brass) brush
1x safety gloves
1x water hose connection

Optional Accessories
Vacuum Kit
Wine Barrel Cleaning Tool
Nozzle with Wide Angle
Steam Mop Head
Microfiber Pad