Rotowash & Steam Cleaner Hire
We carry a limited number of steam cleaner hire services & Rotowash Floor Scrubber Hire Services (tile cleaner hire). We actively try to work around your needs, and as such we offer a very flexible approach. Perhaps you would like to hire just for a day, for a full weekend, or on a more regular basis. We offer competitive daily and weekend rates which include delivery, training, detergent and pick up. A regular arrangement can be negotiated on an individual basis. If you would like to purchase one of our machines, please give us a call to discuss possible payment plans.
Hire Rates
On site delivery currently suspended, pick up & return to base availability only
Steam Cleaners Hire
Currently not available for short term rental/hire, however we can arrange long term purchase options or trade-in units when available
Monday to Thursday (24hrs)
– $295 inc GST per day
Friday, Saturday or Sunday (24hrs)
– See weekend Hire
2 Day hire Monday to Thursday
– $425 inc GST
Weekend Hire
– $425 inc GST
Weekend hires delivered Friday and collected Monday, or by arrangement.
Hire applicable for indoor use only – not available for multiple locations
On site delivery currently suspended, pick up & return to base availability only
Once you have booked a hire by filling out the form, we will arrive at your property ready to offer a full demonstration of the best use of your new machine. Following this, we are always available for ongoing support, should you have some issues with your machine during the hire period. If you would like some more information before hiring, notably whether a certain stain or problem area will be adequately cleaned by the machine in question, just give us a call on 8390 0224.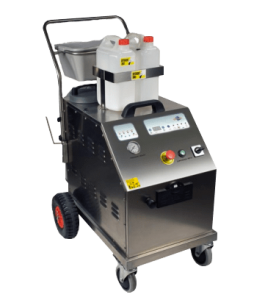 Find out more about our Steam Cleaner Machines.
If your looking for a Floor Scrubber hire service or a tile cleaner hire, we have a limited amount of Rotowash scrubbers for hire. Check out the Rotowash details here (click Here). We also carry a limited amount of Ex-Demo models for sale (click Here)
Please note that we carry only a very limited number of Steam cleaner hire models in stock. Talk to us today and see how you can own a steam cleaner for the best price in SA