Adelaide wine barrels cleaning solutions is the specialists in Wine Barrel Cleaning Solutions in South Australia. Talk to us today to find out why Steam Cleaning your Wine Barrels is the most cost effective and hygiene solution available today.
Steam is a chemical-free, cost-effective way of cleaning wine barrels, and it's 100% natural.
There are no additives, and high pressure dry steam eliminates brettanomyces quickly and effectively. It also removes tartrates and tannins.
The amazingly compact, high performance Supervap is the most popular industrial steam cleaner used in wineries around the world today. It handles:
Barrels
Bottling lines
Winery exterior surfaces with ease
It's portable and easy to use
Our machines are powered by steam- effectively reducing your water usage by 95%
Using steam to clean wine barrels' results in the release of scaling from barrel walls. It also sanitises, detartrates and hydrates the barrel- all at the same time.
The vapor property of dry steam allows for the pores of the wood to be opened, releasing not only tartrates but also eradicates old wine and bitter tannins that have been absorbed inside the wood. The whole process revitalizes the wood barrels while being safe on the char of the oak.
The added benefits beyond cleaning is the powerful ability to quickly rehydrate the oak barrels after storage. Plus, the cleaning /hydrating process allows for an instant view of any leaks in the barrels.
The Doman range of industrial steam cleaners (Supervap / Supernova) are especially ideal for use in wine production areas. Producing superheated 94% dry steam at up to 175°C and between 6-9 Bar pressure. Vaportech steamers can hygienically clean a large variety of equipment in a short period of time. Using little water and no chemicals. For more technicals details, talk to adelaide wine barrels cleaning today
Reasons for using dry steam in cleaning wine barrels:
Add longevity to your oak barrels
Saves time and water usage
Rehydrate and revitalize the Oak
Eliminates left over bitter tannins and melted tartrates, which prevents wine spoilers such as bacteria and microbes from forming
Sanitising & Hydrating Wine Barrels using Dry Steam
Our Industrial steam machines apply high pressure which converts water into super-heated dry steam inside the barrel. Our popular Supervap is ideal for all winery cleaning applications.
Sanitising & Hydrating Wine Barrels using Dry Steam
Our Industrial steam machines apply high pressure which converts water into super-heated dry steam inside the barrel. Our popular Supervap is ideal for all winery cleaning applications.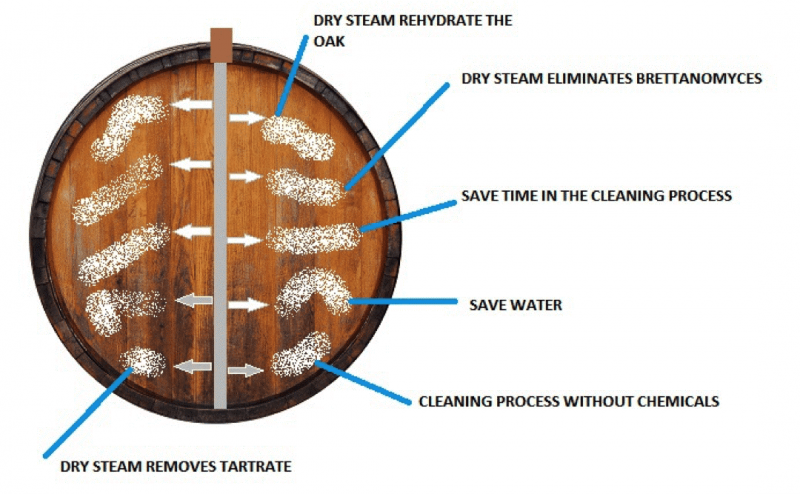 Within minutes, a minimum temperature of over 100ºC is reached and the entire process is complete. The use of only water and dry steam being used and no chemicals, means there's no waste water to treat.
All Doman machines are made and assembled in Italy and comply with the Australian Safety Standards. Talk to Adelaide wine barrels cleaning for more details.
These Doman steam cleaning machines are suitable for wine barrels, bottling line and general cleaning purposes: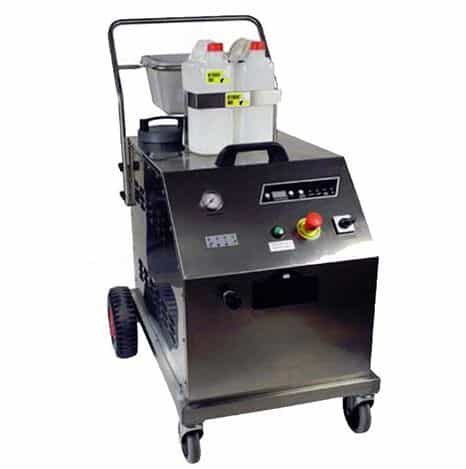 Galaxy
The GALAXY has a unique boiler supplying 26.4 litres of dry saturated steam per hour at up to 10 bar of pressure, this industrial steam cleaner is "state of the art".
The GALAXY is particularly well suited to specific target deep clearing applications that require the highest levels of hygiene, reliability and flexibility of application!
The Galaxy is a heavy duty industrial grade steam cleaning machine ideal for heavy duty industrial cleaning including factory cleaning production lines, conveyor belts and detail cleaning.
SuperVap
The SuperVap is the leading model which makes light work of tough stains. This conveyor belt steam cleaner uses high temperatures and low pressure from two 4.5L boilers to effectively and powerfully clean. It is a heavy duty industrial 3 phase steam cleaning machine, delivering 10 bars of steam pressure and 213 of steam per minute. Despite this high level of steam generation, this machine is able to use very little water and is considered incredibly environmentally friendly.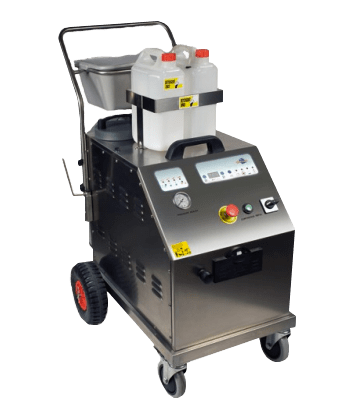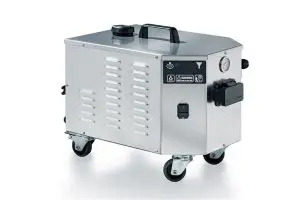 MC Vapor 9
The MC Vapor 9 is A high powered steam cleaner with hot water injection made from stainless Steel.
The MC Vapor 9  is a a high pressure steam cleaner boasting  9 Bar of steam pressure with the ability to inject hot water to wash away thick grease and grime with ease.
The MC Vapor is powered by high temperature steam which cleans deep below the surface to lift heavy dirt and grime unlike any other cleaner. It can clean a huge variety of everyday surfaces including a large range of floor types, walls, windows, curtains, mattresses, upholstery furniture, kitchens and bathrooms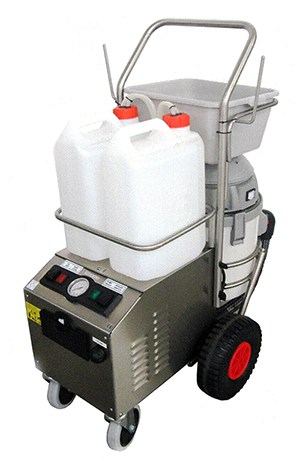 Jupiter
The Jupiter Pro delivers a 9-bar pressure for steam and vacuum cleaning and steam only cleaning applications – a versatile machine. With a capacity of 10 litres of water and detergent injection when required PLUS vacuum allows up to 4 hours of continuous cleaning before refilling is required for most cleaning applications.
The Jupiter is delivered with industrial hoses:
1 x steam and vacuum hose
1 x steam only hose
Plus, a range of industrial quality steam tools accessories ensuring there is a steam tool suitable for every job.