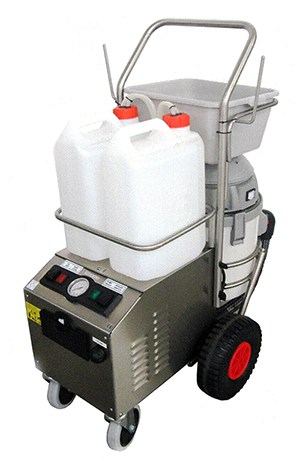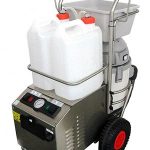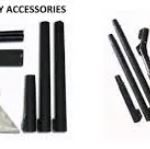 Jupiter
Request a Quote
The Jupiter Pro delivers a 9-bar pressure for steam and vacuum cleaning and steam only cleaning applications – a versatile machine. With a capacity of 10 litres of water and detergent injection when required PLUS vacuum allows up to 4 hours of continuous cleaning before refilling is required for most cleaning applications.
The Jupiter is delivered with industrial hoses:
1 x steam and vacuum hose
1 x steam only hose
Plus, a range of industrial quality steam tools accessories ensuring there is a steam tool suitable for every job.
FREE shipping to Adelaide Metro Areas
FLAT RATE shipping to all Australian states
Technical Features
Accessories
Technical Features
Maximum Pressure: 9BAR / 130.5PSI
Maximum Temperature: 175°C / 347°F
Steam output (water): 120gr./min. – 7.2lt./ora
Water Tank Volume:10lt. ext. Canister
Electric Heating Power: 2200W 10 amp or 3300W 15 amp
Boiler Volume: 3Llt.
Heat up time: 8-9 minutes
Voltage: 240V~ 50Hz
Boiler Material: Stainless Steel AISI 304
Dimensions LxWxH:76cm x 48 x 115cm
Net Weight: 35kg
Dry steam regulation: Yes
Wetness/Detergent Function: Yes
Detergent Tank Volume: 10lt. Ext. Canister
Vacuum: YES
Vacuum power: 1200 Watt
Vacuum Container Volume: 20lt.
Length power cable: 5mt
Included Accessories
Steam only and steam and vacuum accessories kit

Optional Accessories
Steam mop head
Microfiber pad